Another favorite - PARIS MILAN.
Above pic taken from her site Parismilan.con soon to open!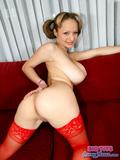 PARIS MILAN = 4'10" - 32G - 18yrs = Bouncin' Boobs = RiOT
Let me introduce - PARIS MILAN.
You know the saying "just cant get enough of a good thing"? Well they definitely had 18 yr. old 32 G cup, 95 lb
Paris in mind when they created that saying. Paris is the first candinate for the official 2008's Next Big Boob Superstar.
Paris has that quintessential perfect body for hard hitting, pussy banging, titty fucking sex.
She is from Venezuela, and does not speak one word of English... The production uses an interpreter, who doesn't speaks neither English or Spanish properly... the whole thing is pretty funny!
Nevertheless, she is very cute AND I SHALL SHARE ALL I HAVE.
Please share everything you see with her

Even softcore :-)